The GeoEnergy Test Bed (GTB) is a research facility initiated by the British Geological Survey and the University of Nottingham comprising an instrumented borehole array. The site represents a £6M investment to support new and emergent geo-energy sectors critical for a sustainable energy future (including £2.5 M UK government-funding through the Energy Research Accelerator project).
 
When commissioned, the GTB will be a national facility that will catalyse collaboration between researchers, technology developers and industrial companies from the UK and overseas. The GTB will enable development and testing of innovative monitoring technologies, improve understanding of impacts and processes in the shallow subsurface and provide data for ground truthing of advanced simulation software.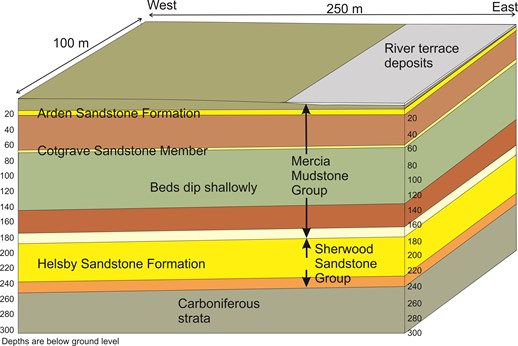 Geological formations at the GTB

The geological formations at the GTB are equivalent to those encountered under the North Sea, including the Mercia Mudstone Group (an impermeable caprock) and Sherwood Sandstone Formation (an important UK resource for CO2 storage, oil & gas extraction, and a major onshore aquifer).
 
The GTB will be used to examine fluid flow through natural pathways in the subsurface. Wells have been drilled to a depth of up to 280m and instrumented with state-of-the-art sensors. CO2 is stored in rock strata at much greater depths than those penetrated at the GTB but monitoring the strata above the storage reservoir is essential. The GTB will be used to determine the most sensitive environmental parameters (e.g. in terms of impacts on groundwater, microbial life and flora at the site), improve the sensitivity of tools and develop low-cost monitoring solutions ready for deployment.