By Ceri Vincent (BGS) & Vit Hladik (CGS)

(P. Deiana, ENEA)
The Carbon Sequestration Leadership Forum Policy Group recognised the valuable contribution of the ENOS project to advancing CO2 capture, utilisation, and storage technologies
At their meeting in Melbourne on 18 October 2018, the Carbon Sequestration Leadership Forum Policy Group formally recognised the valuable contribution of the ENOS project to advancing CO2 capture, utilisation, and storage technologies.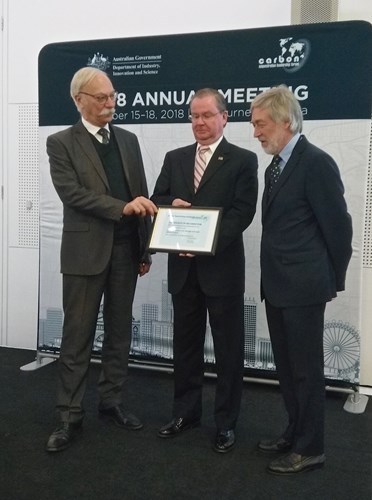 Photo: Didier Bonijoly (L), BRGM, France and Sergio Persoglia (R), Secretary General of CO2GeoNet, receiving the Recognition Award from Steven Winberg, CSLF Policy Group Chair (photo courtesy P. Deiana, ENEA)
The ENOS project was recommended for recognition by the Technical Group meeting in Venice (April 2018) following a presentation by Marie Gastine (ENOS Coordinator, BRGM). Formal CSLF recognition was subsequently granted by the Policy Group meeting in Melbourne. This raises the visibility of ENOS and places it alongside other high-impact CCS projects.
Click here for the list and description of the projects recognised by the CSLF.